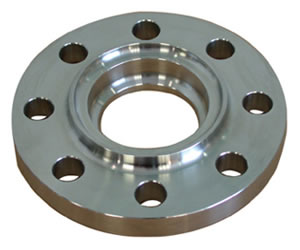 Socket Weld Flange,Socket Flange
Socket Weld Flange

Our socket weld flange, a kind of pipe flange, is designed and manufactured for use on small diameter and high pressure applications. It is similar to slip-on flange in the fabrication, but it has greater fatigue strength when provided with an internal weld. Since its counter bore is larger than OD of the matching pipe, the pipe can be inserted.

Size
Socket weld flange: 3/8"~3"
DN10~DN80

Pressure
American Series: CLASS 150, CLASS 300, CLASS 400, CLASS 600, CLASS 900, CLASS 1500
European Series: PN 6,PN 10,PN 16,PN 25, PN 40,PN 63,PN 100

Flange Facing Types
American Series: Raised Face(RF), Tongue(T), Groove(G), Female(F), Male(M), Ring Joints Face(RJ)
European Series: Type B(Raised Face), Type C(Tongue), Type D(Groove), Type E(Spigot), Type F(Recess), Type G(O-Ring Spigot), Type H (O-Ring Groove)

Materials
Carbon steel: A105
Alloy steel: A182 F 1-F 2-F 5-F 9-F 10-F 91-F 92-F 122-F 911-F 11-F 12-F 21-F 22
Stainless steel: A182 304-304H-304L-304N-304LN 316-316H-316L-316N-316LN 321-321H 347-347H
Low temperature steel: A522 A707 Grade L 1-L 2-L 3-L 4-L 5-L 6-L 7-L 8
High performance steel: A694 F 42-F 46-F 48-F 50-F 52-F 56-F 60-F 65-F 70

Standards
GB/T9112-2000
GB/T9117.1-2000 GB/T9117.2-2000 GB/T9117.3-2000 GB/T9117.4-2000
GB/T9124-2000
SH/T3406-1996
HG/T20592-2009 HG/T20614-2009
HG/T20615-2009 HG/T20623-2009 HG/T20635-2009
ASME B16.5-2009
EN1092-1-2007 EN1759-1-2004
BS1560-3.1-1989 BS4504-3.1-1989
AFNOR NF E29-200-1-2007
ISO7005-1-1992
JIS B2220-2004

Industrial Processes
Die forging, Machining

Industries Served
Power generation, petroleum, natural gas, chemical, shipbuilding, heating, papermaking, metallurgy
As a foremost socket weld flange manufacturer in China, we at adopt a strict quality control system to ensure good quality. Our industrial flanges have passed ISO9000, ISO14001, GB/T28001, Q/SY1002.1 certification. They are well received in many countries, such as Italy, Belgium, America, Chile, Bolivia, United Arab Emirates, Brazil, South Korea, and India etc.
For a complete list of industry pipe fittings, please see our product page!