What type of material is stainless steel pipe for the eye wash?
.............................. Generally speaking, the use of stainless steel tube is a hollow long round steel, mainly used in petroleum, chemical, medical, food, light industry, mechanical instruments and other industrial pipelines and mechanical structural components. In addition, the bending, torsional strength of the same time, light weight, so also widely used in the manufacture of mechanical parts and engineering structures.
Also used for the production of various conventional weapons, barrels, shells and so on. 
The stainless steel tube of the eye washer can be divided into Cr series (400 series), Cr-ni system (300 series), Cr-mn-ni (200 series) and precipitation hardening system.
200 Series-chromium-nickel-manganese austenitic stainless Steel 300 series-chromium-nickel austenitic stainless steel.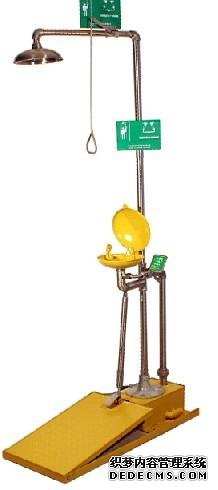 According to the metallurgical organization of large categories divided into 4 categories:
Austenitic stainless Steel
Martensitic Stainless Steel
Ferritic Stainless Steel
Precipitation-hardened stainless steel
The stainless steel pipe of the eye washer is in the middle, outside not thousand kinds, it is difficult to Beshu.
201, 202, 304 belong to austenitic stainless steel, this is the United States Steel, Japan is called only the front plus SUS. But commonly used stainless steel material on so many: 201 stainless steel, 202 stainless steel, 301 stainless steel, 304 stainless steel, 304L stainless steel, 316L stainless steel, 321 stainless steel, 2205 duplex steel, 2507 stainless steel, 309S stainless steel, 310S stainless steel,
904L and so on a variety of materials, as well as the 400 series of stainless steel is also known as rust-resistant, 401S stainless steel, 409L stainless steel, 430 stainless iron, 444 steel, 420J1,1CR13, stainless steel, 2cr13 stainless steel, 3CR13 stainless steel.
The company is mainly engaged in a variety of super long, ultra-thin, ultra thick or extra large caliber stainless steel tube manufacturers, stainless steel pipe products have passed the EU ped pressure equipment directives, national A-class special equipment production license, the British Lloyd's iso9001:2008 system certification;
上一篇:How complex is the type distribution of carbon steel elbow?
下一篇:Application of high pressure elbow in piping system
What type of material is stainless steel pipe for the eye wash?: